I Want To Sell My Home in Montgomery, AL



People in the position of selecting an agent to represent their interests in a residential real estate transaction should have the following in mind:

The Helping You Move Team believes that one should be able to respect an agent both as a person and as a professional. Our Unconditional Guarantee is based on mutual respect. We believe the relationship we have with our clients is the most important aspect of our profession. It's not asking too much for an agent to be responsive, to answer questions and respond to specific needs in a timely manner, with forthrightness. We do that!

The market is in a constant state of flux, and a good buyer's or seller's agent sees the neighborhoods, sees the houses, understands what is available and what is a fair price to ask or to offer for a given property. This is important to both buyers and sellers, because the best way to know the market is to look at it all the time. There are literally dozens of people who have written testimonials about the services we have provided.

The real estate firm with which your agent is associated can make a big difference. RE/MAX is not only the most successful real estate organization in the world, the office we work with, RE/MAX Properties consistently does over one-third of the real estate transactions in the Tri-county area... that is 40 agents or so, out of some 1000 agents. RE/MAX agents are successful because they are independent businesses who have chosen to be part of the excellent reputation and commitment to service that comes with the RE/MAX name. And to maintain this association, we have to be competitive and sharp, and our reputation and service have to be impeccable. In this age of technical innovations everything moves quickly. An agent on the leading edge is using the latest technical innovations: computers, software, digital camera, etc... we assure you The Helping You Move Team is state of the art. That is another benefit that RE/MAX offers . . . they keep us abreast of what is changing, and that makes it easier for us to stay ahead.

Children's Miracle Network is a non-profit organization found in 1983 Its mission—to generate funds and awareness programs for children and associated hospitals. The organization manifests its mission through three major channels. The foremost is a 21-hour international television broadcast originating live from Walt Disney World. The first special was broadcast by 30 television stations and yielded $4.7 million. This past year through the combined efforts of the CMN Broadcast, Corporate sponsors, television sponsors and underwriters they raised more than $1.9 Billion for Children's Healthcare. The work of CMN extends beyond the broadcast, through the hospital directors, local television sponsors and the team of CMN Corporate sponsors. The hospitals, committed to the mission of CMN, provide dedicated staff to work with Sponsors and the media to generate awareness programs and funds for the children in the local areas.

Children's Miracle Network Hospitals was founded with two simple goals:

Help as many children as possible by raising funds for children's hospitals.
Keep funds in the community in which they were raised to help local children.

The organization was founded by Marie Osmond and her family, John Schneider, Mick Shannon and Joe Lake. Children's Miracle Network Hospitals most recognizable symbol and greatest fundraising tool is its red and yellow Miracle Balloon icon. As of 2011, Children's Miracle Network Hospitals has raised more than $4.3 billion—most of which is donated a dollar or two at a time.

Children's Miracle Network raises funds for 170 children's hospitals. Through the Miracle Home program, RE/MAX offices donate a portion of each home sale to Children's Miracle Network, and many offices hold special fundraising events every year. The money raised in each location stays in that city to benefit patients of the nearest Children's Miracle Network hospital. RE/MAX is only one of only three corporate sponsors to ever reach the $100 million milestone.
CMN "Miracle Home" Program
What is it? The Miracle Home Program is a way for RE/MAX Sales Associates and Brokers to participate in a worthy cause and have a positive impact upon their individual businesses. The Helping You Move Team has pledged a portion of our proceeds from the sale of all of our properties will be donated to the Children's Miracle Network on behalf of our clients. This truly makes each of the homes we sell a "Miracle Home."

Why CMN?
When RE/MAX International became the official real estate sponsor for Children's Miracle Network in January 1992 we had two objectives. The first was to affiliate with a national charity distinguished for improving health care for children. The second — to make the world a better place for the people we serve. Astronaut Christa McAuliff once said, "I touch the future, I teach." We view our affiliation with Children's Miracle Network similarly: Through 170 affiliated CMN hospitals, we touch the future of the families we serve. We view the health of our society. We are committed to improving the health of today's child.

CMN Champions
In 1996, Children's Miracle Network moved its annual campaign and broadcast to a sports format. The campaign named CMN Champions is designed to capitalize on growing viewer interest about sports programming. It is also an initiative to herald the championship effort of the children, families and individuals who must overcome the obstacles involved with loss of health via birth defect, trauma or disease. As such, RE/MAX Associates are now CMN Champions who help overcome the challenge of birth defects, trauma or disease for children.

Relocating Out of Montgomery, Alabama?
Moving to another location? The Helping You Move Team will be happy to put you in touch with an expert relocation specialist Realtor in that city. No Obligation. Just ask!

|| Home | Preferred Buyer Program | Homes For Sale In Montgomery Area | Relocation | RE/MAX International | E-mail Us ||
|| Montgomery, Alabama-Newcomer's Guide | How To Sell Your Home Faster | Moving Tips | What's a Miracle Home ||


4215 Carmichael Rd. Montgomery, AL 36106
Buyers Specialist: Betty Cannon, 334-224-8311
Sellers Specialist: Cheryl Ashurst, 334-224-8222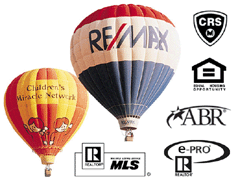 All information deemed reliable but not guaranteed and should be independently verified.
Though one may be overpowered, two can defend themselves. A cord of three strands is not quickly broken.
Ecclesiastes 4:12
The best real estate agents to help you move your home whether you are Buying, Selling, Building and Relocating in Alabama-Montgomery, Prattville, Millbrook, Wetumpka, Lake Martin, Lake Jordan, Montgomery county, Elmore county, Autauga county